New From Plank Road Publishing
New Musical and Revue


Many of us have heard "As you think, so shall you be." The subject of this revue aims to help our young charges learn early in life that what we think and how we speak can affect the quality of our lives and the lives of others.
New Warm-Up



This group of seven lighthearted partner warm-ups is quite serious in its intent. These songs are good for teaching precision, enunciation, articulation, and, as they are true partner songs, they help develop the independence that part-singing requires.
---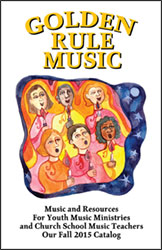 Download. Browse. Click
to listen or shop.
---


---
---