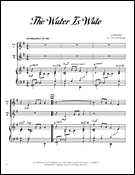 Water Is Wide, The - Piano/Recorder Score PDF
As a special bonus for customers who own this downloadable recorder single, we're offering the Piano/Recorder Score as a free download. To download the score, you must enter a username and password. The username is waterwide, and your password is the last word of the first paragraph on the notes page in the PDF.
Enter Username and Password
Instructions: To download this file, follow these instructions:
Right-click (PC) or control-click (MAC) on the link above and choose the save or download option.
Select a location on your computer and save the file.
We strongly recommend downloading the file following the above directions, rather than viewing the PDF in your browser window.
NOTE: To view PDFs, you'll need the free Adobe Acrobat Reader. (see the link to the right.)