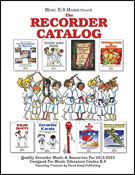 Download a full-color interactive PDF of our Music K-8 Marketplace 2012-2013 Recorder Catalog so you'll always have it handy. What do we mean by "interactive"? If you click on the name of a product in the catalog PDF, you'll be taken to that product on MusicK8.com. Sound clip icons link directly to an MP3 file. Even better, the whole file is searchable (just hit control + f or, on a Mac, Apple + f)!
For best results, download this file and open it with Adobe Acrobat Reader.
---
Instructions: To download this file, follow these instructions:
Right-click (PC) or control-click (MAC) on the link above and choose the save or download option.
Select a location on your computer and save the file.
We strongly recommend downloading the file following the above directions, rather than viewing the PDF in your browser window.
NOTE: To view PDFs, you'll need the free Adobe Acrobat Reader. (see the link to the right.)