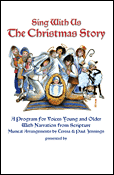 Teresa and Paul Jennings' Christmas program Sing With Us The Christmas Story comes with several free downloads designed to help you prepare for and present the program. Here we are offering a color program cover to help you announce your program.
---
Instructions: To download this file, follow these instructions:
Right-click (PC) or control-click (MAC) on the link above and choose the save or download option.
Select a location on your computer and save the file.
We strongly recommend downloading the file following the above directions, rather than viewing the PDF in your browser window.
NOTE: To view PDFs, you'll need the free Adobe Acrobat Reader. (see the link to the right.)