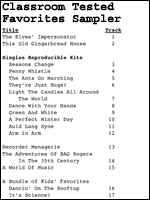 Download a track list to accompany the Favorites Sampler P CD, which features excerpts of several of the most popular pieces of Plank Road Publishing music.
Click here to download the complete Sampler P as a Zip file.
---
Instructions: To download this file, follow these instructions:
Right-click (PC) or control-click (MAC) on the link above and choose the save or download option.
Select a location on your computer and save the file.
We strongly recommend downloading the file following the above directions, rather than viewing the PDF in your browser window.
NOTE: To view PDFs, you'll need the free Adobe Acrobat Reader. (see the link to the right.)