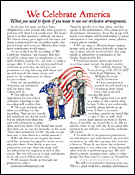 If you would like to perform "We Celebrate America" (available as a Singles Reproducible Kit) with a local orchestra, this downloadable PDF will explain how to go about it. Please note that this project would not be appropriate for your school orchestra.
---
Instructions: To download this file, follow these instructions:
Right-click (PC) or control-click (MAC) on the link above and choose the save or download option.
Select a location on your computer and save the file.
We strongly recommend downloading the file following the above directions, rather than viewing the PDF in your browser window.
NOTE: To view PDFs, you'll need the free Adobe Acrobat Reader. (see the link to the right.)